Purchasing SIP Lines
Intracom Systems does not provide SIP lines. The lines must be purchased through a 3rd party phone line provider. VCOM can connect to SIP lines using a Direct IP Trunk or a Registered Trunk. A Registered Trunk is the preferred method and will be covered in this guide. VCOM requires 1 trunk per DID. Once a SIP line is purchased you will be provided a phone number, username, PBX IP, and you will set up a password.
Creating a SIP Client After logging into the VCOM System Administration under the System Configuration tab click Client Configuration.

Click Add.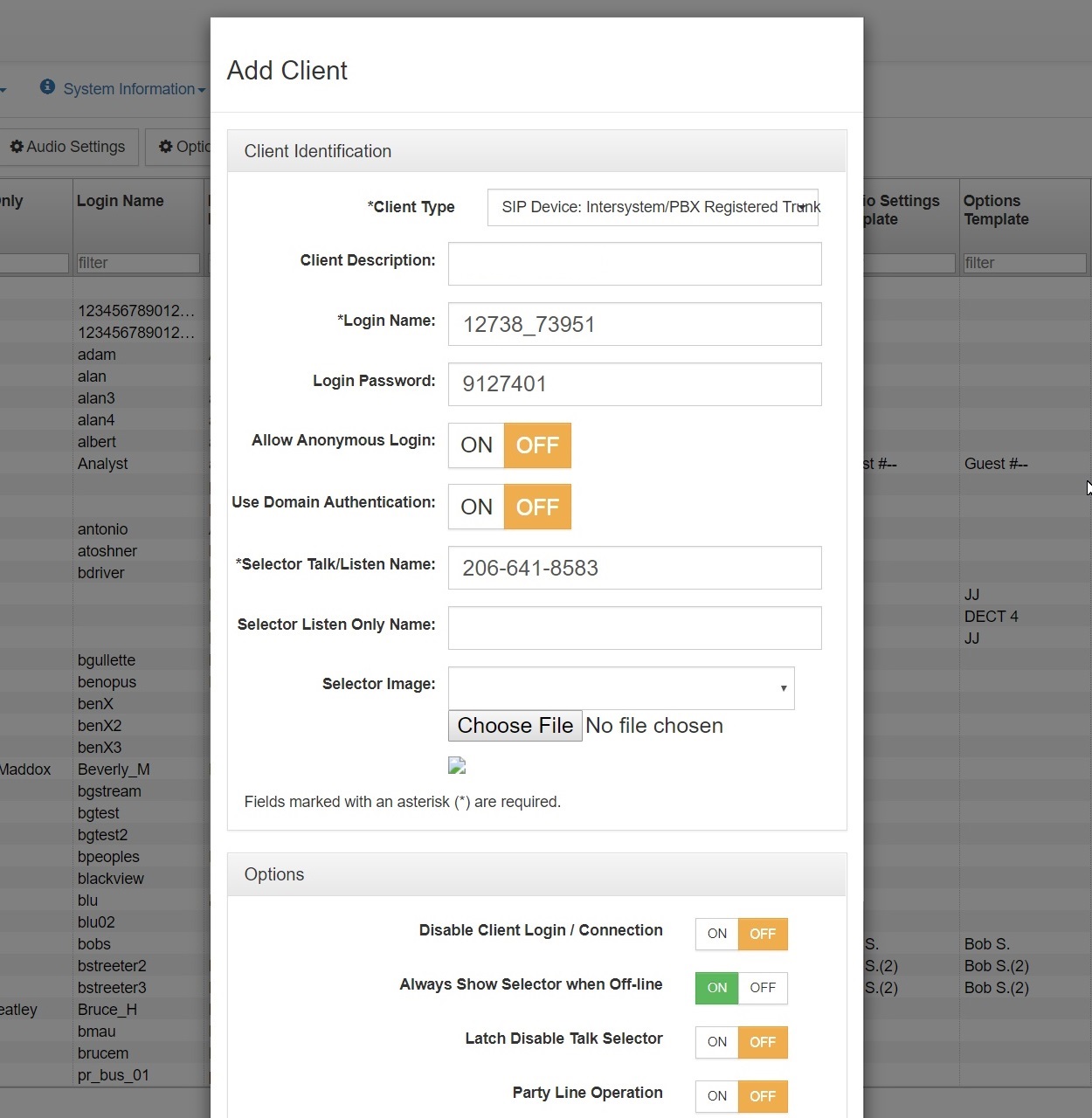 On the Client Type drop-down menu select "SIP Device: Intersystem/PBX Registered Trunk". For Login Name enter in the username given by your SIP provider. The Login Password will be the password you set up with the SIP provider. In the screenshot above the Selector Talk/Listen Name is set to the phone number but this is not required. In the options panel below enable "Always Show Selector when Off-line". Click save at the bottom of the menu.
Click on the client you just made to highlight it then click Options.

Scroll down to the bottom of the menu. For the SIP Target Primary Host Name enter in the PBX IP given by your SIP provider. You can also enter in the SIP Target Proxy Server IP Address, although this step is optional.
The settings show above can be left default but it is likely that you will want to change them. Below is a description of what each option does. Call Notification Ring Tone: A file path can load an audio file to be played when an incoming call is placed.
Auto-Answer Notification Message: This option allows the selection of an audio wave file to be played as the notification message to the caller to indicate that the connection has been established between the SIP client and the VCOM Virtual Matrix. User provided files can be uploaded to the server provided the files are in a 16 bit mono audio format, preferably set to the same Audio Mix Sample Rate of the Virtual Matrix.
Auto-Answer Delay Time In Ms: This option sets the delay time in milliseconds after which the VCOM Virtual Matrix will automatically answer a received SIP call. Typically this value will be set to zero such that the call is answered immediately. In some situations it is desirable to delay answering the call so that VCOM Control Panels listening to that line will hear a ring signal.